London's Top Shopping Destinations…Whether you're looking for upscale, exclusive shops, trendy and chic, or something a bit unusual, it's sure to be at one of these London Shopping destinations! 
Oxford Street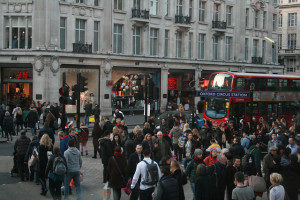 Considered by many (including me) to be the heart of London shopping, Oxford Street is probably London's best known shopping destination. It's "anchor store" is Selfridges.Thought of by many as the best department store in the world. It has a large collection of well-known department stores like Debenhams, and well known shops like Topman, The Gap, and one of my personal favorites; sportsdirect.com. At its eastern most shopping district end it intersects with Tottenham Court Road which is heavily populated with electronic stores. Oxford Street is a London Travel Planner 'Must See Place'!
---
Carnaby Street

Carnaby Street is a pedestrian only street, and is actually a short walk from Oxford Street. It is lined with numerous fashion and lifestyle retailers, global brands, and a large number of independent fashion boutiques. Due to its close proximity to Oxford Street, it is very much a part of the Oxford Street shopping experience.
---
Regent Street

Also part of the Oxford Street Shopping Experience due to its proximity, Regent Street is considered by many to be The West End's greatest shopping experience. There many art galleries here, and lots of Global brands like The Apple Store, Anthropologie and Hamley's to name a few. Probably what's most rewarding about walking this long, curving street, is what's at the end…Piccadilly Circus!
---
Bond Street

Bond Street is arguably London's most exclusive shopping district and where many of London's very high end shops are located. You'd be likely to see celebrities shopping here than anywhere else as it features such stores as Louis Vuitton, Burberry, and Tiffany & Co. Bond Street is also included in the Oxford Street shopping experience.
Queensway

Chances are, you won't find Queensway listed along with other London top shopping destinations on other websites, but this is a street I am quite familiar with and feel that it is worth noting. Located in the Bayswater section of London, Queensway is home to Whiteleys, London's first department store. There is a huge variety of business on Queensway…everything from electronics shops (there is a massive electronics/computer store on the west side of the street close to Bayswater Road) to American fast food, clothing stores, souvenir shops, cafes, news stands, and a beautiful pub on the Porchester end, or north-most section of Queensway called "The Redan".
Knightsbridge

Travelers from all over the world usually have Knightsbridge set in their sights as their first London shopping destination, as this is the home of the famous Harrod's, and another lesser known, but notable department store Harvey Nichols. Knightsbridge is the place to shop if you're looking for the latest trends of the world's fashion elite.
---
Notting Hill

Best known for being the setting for the well-known movie "Notting Hill", (yes, we can tell you where  "The Travel Bookshop" was located) This is not a shopping district where you will find exclusive shops and boutiques in the aforementioned shopping district of Oxford street. Notting Hill is made up of hole in the wall antique shops and record stores where you can sift through old used LP's in their original jackets. You can easily spend the better part of an afternoon here going through shops with fascinating old items and appliances. Notting Hill really comes alive on Saturdays as thousands of people flock there for the Saturday open market, where hundreds of vendors display antiques and other unusual trinkets. This is a London Travel Planner 'Must See Place'!
---
Covent Garden

Covent Garden is a fantastic shopping experience. Here you can find some of the trendiest of clothes, arts & crafts, (mainly on weekends) jewelery, antiques, handmade soap, handbags, a magician's booth, candy, hand knitted children's clothing, artwork and homeware.
---
Westfield London

Located in London's Shepherd's Bush Section, Westfield is a bit off the beaten path from most of the central London attractions, but easy to get to using the London Underground. It is the largest urban shopping center in Europe. Westfield is home to more than 275 luxury, premium and high-street retailers as well as a gym, cinema, several pubs and restaurants, and all under one roof!
---