Round Out Your London Experience With London Day Trips! Here Are 10 Great Day Trips From London
Greenwich  I begin with Greenwich, because it is the closest London day trip and because I truly loved my visit here. Most of you probably associate the name Greenwich with the International Time Line, and yes, you would be correct in thinking that this is indeed, where the International Time Line originates. All of our time is measured from the Prime Meridian Line located outside of the Old Royal Observatory. Straddle the line with your legs and both legs will be in different time zones!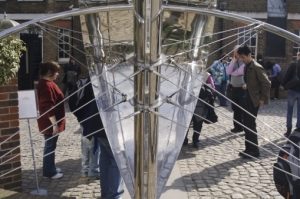 Other sites to see in Greenwich are the National Maritime Museum, The Royal Naval College, and The Cutty Sark; the famed speedy ship that could cover 400 miles per day carrying tea from China to Britain.
---

Hampton Court Palace  
Only 13 miles away, Hampton Court is also one of the London Day Trips still relatively close to London,  Hampton Court Palace was originally built by Cardinal Thomas Wolsey, who was King Henry VIII's lord chancellor. But when the Cardinal opposed King Henry's request for a divorce from Catherine of Aragon this provided the king an excuse to take Hampton Court Palace from the Cardinal for himself as a royal residence. Katherine Howard, Henry's Fifth wife supposedly haunts the palace to this day. You will be amazed at the ornate rooms and the grounds surrounding the palace.This was also one of my favorite London Day Trips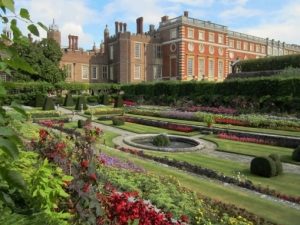 ---

Bath 

 Around two thousand years ago, the Romans re-directed hot, sulfurous waters into elaborate thermal pools creating the now famous Roman Baths. In the eighteenth century, elegant ladies and dandies from all over England turned Bath into one of England's most beautiful cities when they began coming to Bath to take the waters and enjoy the season surrounded  by terraced houses and elegant squares.
The architecture in this city will amaze you, and the Roman Baths are one of the most fascinating tourist attractions in all of England. Bath is also home to the The Jane Austen Center. The famous author actually lived up the street from the center, and tours of the center include information about her life in Bath.
---

Canterbury   Canterbury became famous in Europe when Archbishop Thomas Becket was murdered at the Canterbury Cathedral in 1170, and became a destination for a pilgrimage by people from all parts of the Christian world. This provided the inspiration for Geoffrey Chaucer's 14th century collection of stories known as "The Canterbury Tales" . Seeing and exploring the magnificent Canterbury Cathedral is reason enough to visit here, but learning about the city's Roman past in its Roman museum is yet another compelling reason to see Canterbury.
---

Salisbury 

&

 Stonehenge With its Medieval marketplace, Beautiful old cozy pubs, the spectacular Cathedral Close, High Street lined with beautiful, half-timbered buildings and what may be the world's best known prehistoric landmark Stonehenge, you may find yourself in no rush to get back to London!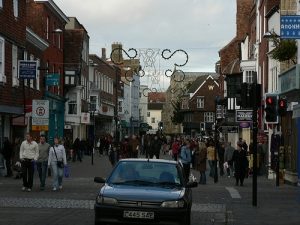 Salisbury is compact, and very easy to get around because most of the streets around the Marketplace and Cathedral Close are closed to traffic.  This is a wonderful day trip to take.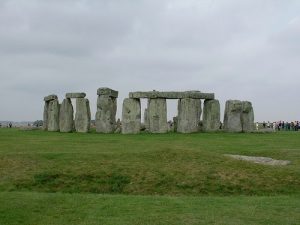 ---

Windsor

 &

 Eton 

Windsor is located 20 miles from central London and is usually a must see travel attraction for people visiting London. It is of course, where Windsor Castle is located. The castle is one of the queen's official residences. It was constructed over 900 years ago by William the Conqueror.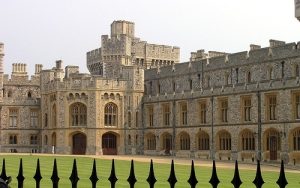 Just across the Thames from Windsor Castle is the site of Eton College, considered to me one of the most exclusive boys' schools in the world. While here, you can tour the castle, walk through Windsor Great Park and visit Eaton College.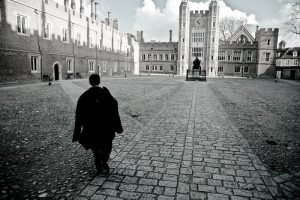 ---

Stratford upon Avon   

Located 90 miles to the northwest of London, this little town is the birthplace of William Shakespeare, lived most of his life here and is buried here. Apart from it being a literary pilgrimage sight, it is also well known for the Royal Shakespeare Theatre, where some of Britain's top actors perform. Like Salisbury, Stratford is compact and you can walk everywhere. There are walking tours available to see Shakespeare's birthplace and the Shakespeare Center.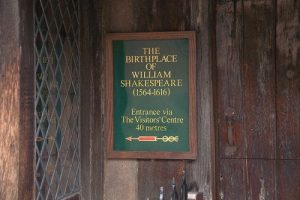 ---

Winchester  One of the nicest small cities in England, it was once strategic Roman military headquarters, it was once the capital of a kingdom known as Wessex southwest of London, or, as it was called back then; Lundene. Winchester's best known attraction, Winchester Cathedral, was founded by William The Conqueror, who  went to Winchester to claim the throne after the Battle of Hastings. Winchester Cathedral is worth seeing all by itself, fans of Jane Austen will likely make it a pilgrimage to Winchester, as her home is in nearby Chawton, and she is buried at Winchester Cathedral.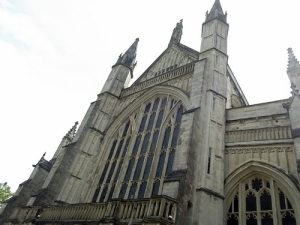 ---

Cambridge  

A university town, Cambridge has become Britain's "Silicon Fen". There are 31 colleges located here, notably Trinity College and King's College. If you're lucky you can catch a concert by the famous King's College Chior, or see the first draft of Keats "Ode to a Nightingale" at the Fitzwilliam museum.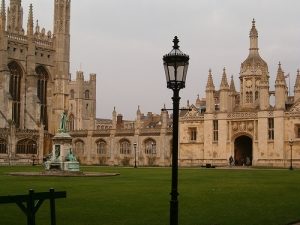 ---

Dover Castle  

For 2000 years, this spot high up on the White Cliffs, facing the European Continent at the shortest distance across the English Channel (On a clear day you can see all the way across the channel to France) has served as major strategic military outpost. Built by King Henry II, Dover Castle is a  medieval fortress. Some of its highlights include: a 1000-year old Saxon church, an ancient Roman lighthouse, and tours of the secret tunnels constructed during World War II. Another reason to visit Dover are the breathtaking views of the famous chalky White Cliffs.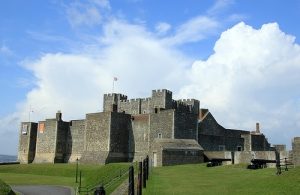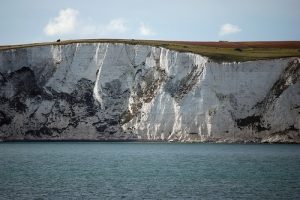 ---
 I can supply you with transportation information if you'd like to take a London Day Trip. I almost always recommend traveling by train. (where applicable of course) Traveling by train throughout the UK is a GREAT experience with comfortable carriages and wonderful views of the English countryside!